… and some days the bear gets you.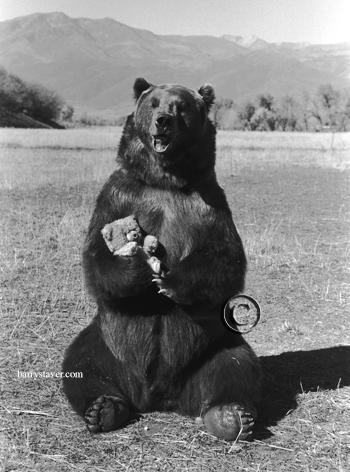 A colleague of mine often used this saying and it seemed to fit with these photographs of Bart the Bear and his trainer.
Do you recall the film, "The Bear"? It starred Bart who "played the role" of a male Grizzly that befriended an orphaned cub. Training for the film included work with this Teddy Bear. Bart was an Alaskan Kodiak that grew to 9′ 6″ tall and weighed 1,800 pounds.
A People magazine assignment took me to Utah where I photographed him with trainer Doug Seus – undoubtedly the most unusual portrait subject I've encountered – the bear not Doug. It was amazing to watch Doug and Bart "play" and chase one another.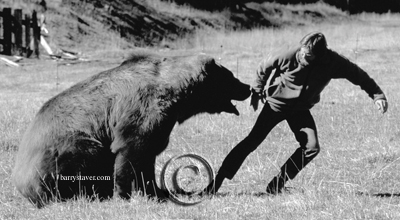 Bart was extremely fond of one beverage. Any ideas? Hawaiian Punch. As I recall he consumed a full case of it during the photo shoot – one can at a time poured into his open mouth.
National Geographic also published this photograph in their children's magazine.
Happy New Year and remember, don't let the bear get you.