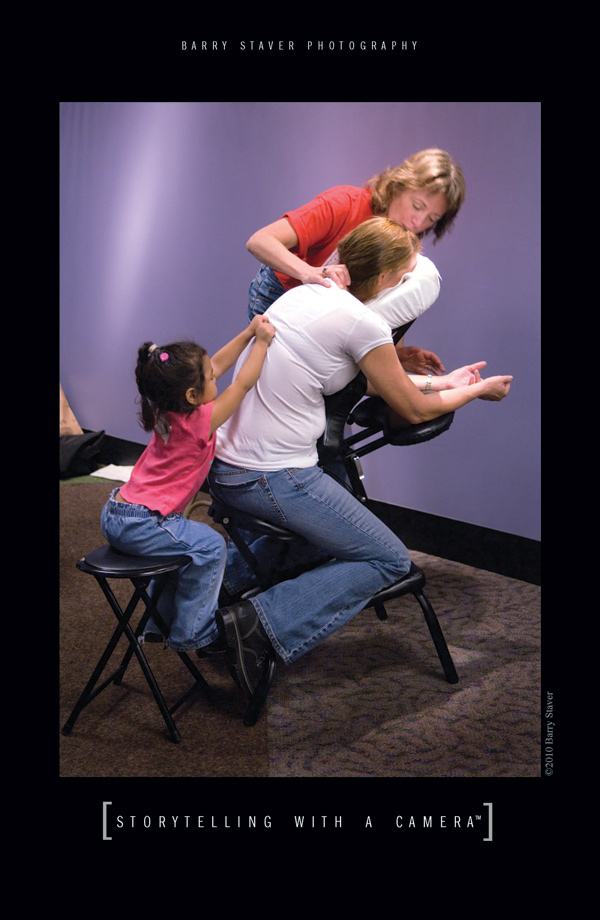 Post Card Series. As "the storyteller with a camera" I'm usually photographing people ~ telling their stories. I'm amazed at the number of favorite photographs that include people's hands. Hands at work or play or in some type of gesture that further adds character to the subject.
The chair massage image was taken at a health fair for the homeless. Once a year several corporate and foundation sponsors bring healthcare professionals and other volunteers together to provide this much needed care. My photography tells the story and helps bring other sponsors and volunteers on board for future events.
The chair massage area was set-up in a wide hallway of the crowded medical center and I'd photographed 2 or 3 people receiving their 10 minute massages. Later in the day, as I walked past the chairs on the way to another area, this scene presented itself. The woman's daughter started to massage her mom's back to help out. Don't you agree that those tiny fists make this a very successful photograph?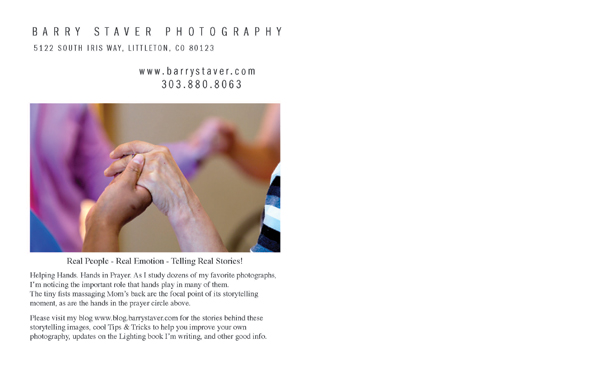 The second photograph captures  a woman's group opening their morning session with a prayer circle. It's important to me not to interrupt quiet moments like this one. Shooting from a distance with a telephoto lens kept the integrity of their prayer and yielded a strong "artistic" photograph at the same time. Doesn't your eye go to the in-focus hands in the foreground, then shift to the out-of-focus hands behind?